I'm going to go ahead and say it. Right now, the Birds Choice Cedar Hopper Feeder is the best bird feeder I have in my collection.
Having a high-quality hopper feeder became important to me about a year ago when I realized that I wanted to draw in bigger birds like Cardinals, Blue Jays, and different species of Finches consistently. I went to my local Wild Bird Store to look at options and was immediately drawn to this feeder. I love that it's made of mostly wood versus plastic. It looks a lot more "outdoorsy" and matches the theme I'm going for at my bird feeding station.
Below, I'll list my pros and cons and why you should consider buying this feeder. This isn't a sponsored or paid post. I just really happen to like it!
The Pros of the Birds Choice Cedar Hopper Feeder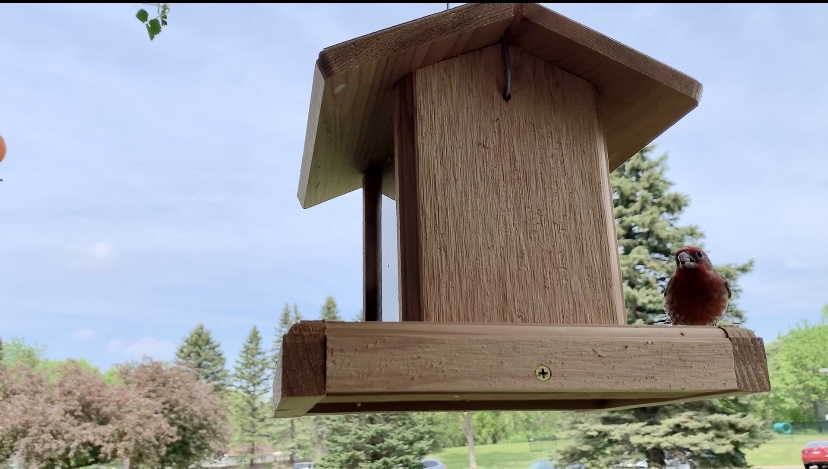 The biggest benefit of this feeder is that its sturdy to support larger birds while also offering ample space for numerous species to visit. I regularly have larger Blue Jays and Cardinals eating from it. It's also a favorite of my regular House Finch guests. Sometimes there's five or six of them crowding onto it at once!
Related: How to Attract Blue Jays to Your Bird Feeder
The feeder comes with a hanging cable/rope thing (I don't know the technical term, leave me alone), removable windows and a grate at the bottom, making it easy to clean. It's great for any type of bird seed. Its ports are big enough that I even served peanuts in the shell from it one time.
The grate at the bottom has small holes to drain any liquid if it snows or rains. It also has a nice divot thing (another technical term) in the middle to help the seed pour to the sides. It holds 2-3 pounds of bird seed.
So far my Birds Choice Cedar Hopper Feeder has had these birds eat from it regularly:
Blue Jays
Cardinals
Chickadees
Chipping Sparrows
Downy Woodpeckers
Goldfinches
House Finches
House Sparrows
Mourning Doves
Pine Siskin
Red-Breasted Nuthatch
White-Breasted Nuthatch
Now that's a fun combination of birds! I'm hoping to draw in an Indigo Bunting and Scarlet Tanager next…
Related: How to Attract Minnesota Birds to Your Feeders
The Cons of the Birds Choice Cedar Hopper Feeder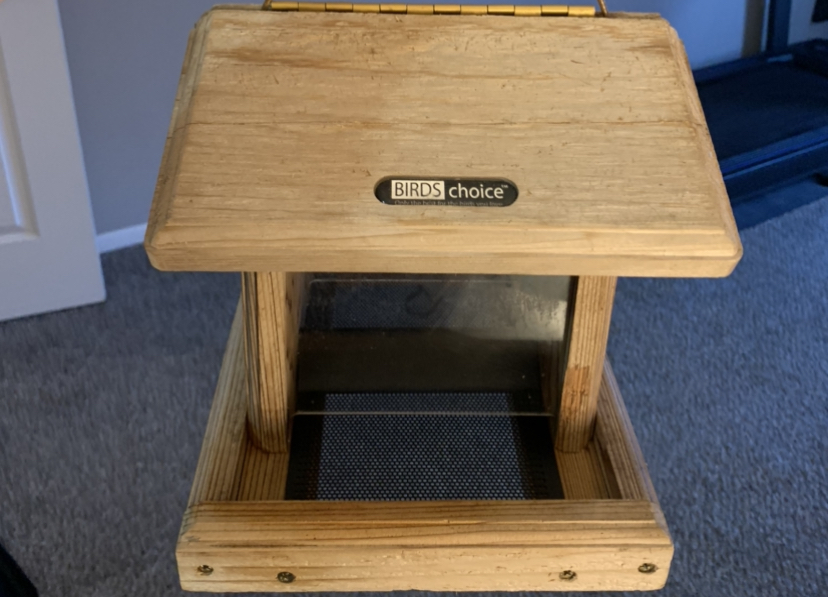 If you can't tell from my review already, I don't have a lot to put here. The only downside in my experience with this feeder is that it's too popular. Annoying House Sparrows sometimes flock to it and toss a lot of seed from its large ports. It's also sturdy enough to support larger pesky birds. I do have Cowbirds flocking to it occasionally in the spring and summer.
This is a mostly-wood feeder, so it takes longer to dry when I clean it. Food can also spoil in its ports faster as it gets wet easier, making it ideal for mold and bacteria.
Related: Ranking Bird Seeds from Worst to Best
The Final Rating: 9/10 (Nearly Perfect)
You may have to clean this feeder a little more often than a plastic one, but man…it sure looks beautiful and draws in a ton of birds. I'd highly recommend this to anyone getting started with bird feeding, or if you want to draw in more species in larger numbers. This is by far my highest-traffic feeder year-round right now!
To purchase: If you're in Minnesota I found my feeder at the Wayzata All Season Wild Bird Store. You can also buy it online here.
Note: I was not paid or endorsed to write this review. These are my views and opinions.