During the 4th of July, many of us are looking for ways to celebrate our country and support American-made products. If you're an avid birdwatcher, why not combine those passions with made in USA bird feeders?
Amazon has several made-in-America bird feeders to choose from, but I'll admit that it's tough to find and identify which products are actually made in the U.S. I combed through a bunch of feeders and picked five for you to consider. I picked a variety of feeders from different companies for this compilation.
With these feeders in your yard, not only will you be providing a great dining experience for your birds, but you'll also be supporting American businesses in the process.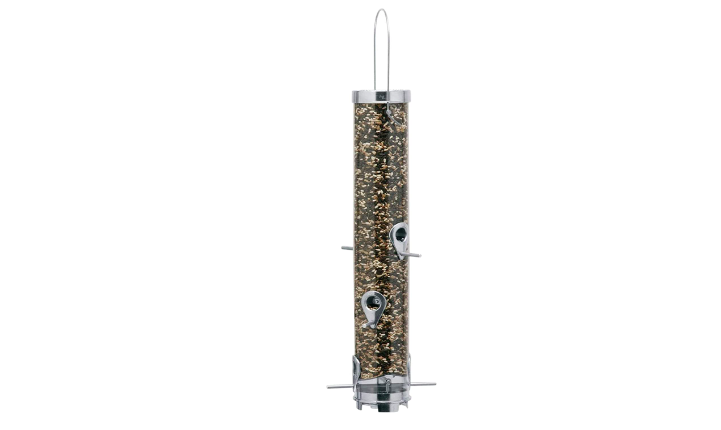 This is a huge tube bird feeder. It's 20-inches long and can hold more than two pounds of bird seed with six ports for birds to perch on. Its received strong customer marks for its durability and ability to appeal to birds, while also being a squirrel-proof bird feeder. Also, there's a lifetime warranty against any squirrel damage.
Related Content: Three Foolproof Ways to Stop Squirrels at Your Bird Feeders, Guaranteed
The feeder is designed and made in the USA by Droll Yankees, based in Plainfield, CT.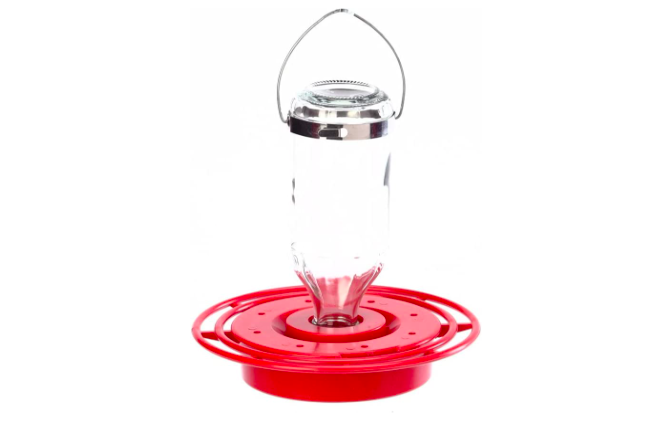 I use this feeder personally and love it. This is a glass hummingbird feeder with a plastic base. You fill the glass bottle with nectar and it filters down to the platform. So, there's a lot of space for hummingbirds to drink and perch.
It's an easy feeder to set up and clean. Just take off the bottle and then separate the tray from the base for easy cleaning. My neighborhood Ruby Throated Hummingbirds are big fans of this feeder. Also, consider filling it with nectar defender, which takes longer to spoil that regular sugar water.
Related Content: The Best Hummingbird Feeders You Can Buy on Amazon
This feeder is created by Birds Choice, based in Chilton, WI.
This is a suet feeder with the added bonus of a roof made of recycled plastic to give it some weather-resistance. Suet feeders are fantastic for Woodpeckers, Nuthatches, Chickadees, Titmice, and more. I also like suet feeders because suet cakes are dirt cheap to buy in bulk.
This feeder is manufactured in the U.S. by Woodlink in Iowa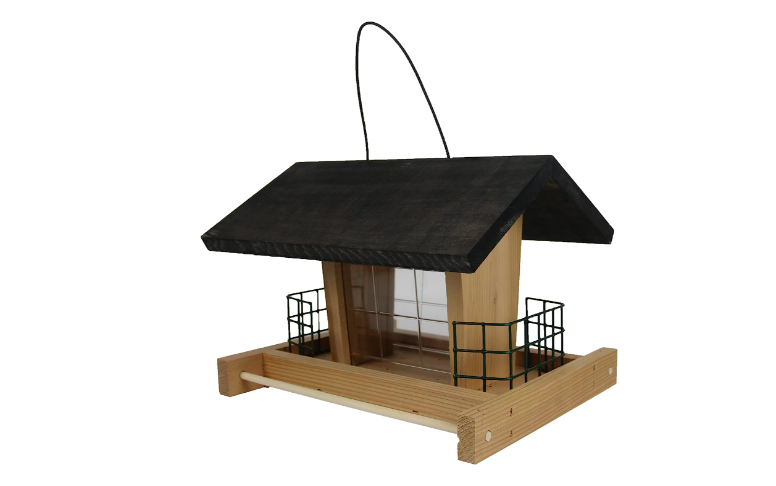 I always recommend hopper feeders to new bird feeders and like how this one is designed. There's a center space for seed and two side cages for suet blocks. Hopper feeders appeal both to small and larger songbirds like Cardinals and Blue Jays, because it has space to support their weight.
It's made with cedar wood, giving it a nice natural look. This feeder doesn't have much for reviews, but I wanted to pick something out to give a different company a recommendation!
This feeder is manufactured by Heath Outdoor Products in Coopersville, MI.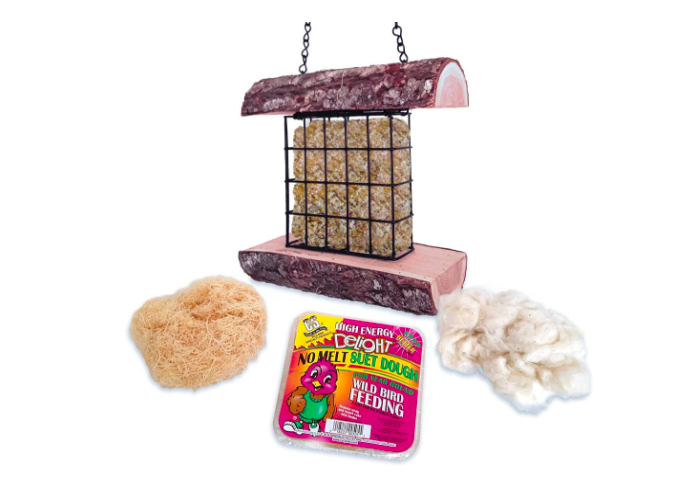 I enjoy the natural look of this suet feeder, which is made with wood logs on the top and bottom for a unique look. Customer reviews say this feeder fits in great hanging on or near trees. It also gets high marks for sturdiness and quality.
The feeder also comes with a suet cake, so you can start feeding birds right away!
This feeder is manufactured by Mac's, made in the U.S.
Wrapping Up
I hope you enjoyed the selection of made in USA bird feeders for sale on Amazon. Let me know what you think in the comments below or if I should add a feeder to this guide. I plan to continue adding to it in the future!
Disclaimer: Some links found on this page are Amazon affiliate links. If you click an affiliate link and make a purchase, I might earn a commission. As an Amazon Associate I earn from qualifying purchases. (There's no extra cost to you if you do this).