If you search "Amazon Baltimore Oriole Feeders" there's an overwhelming amount of options presented to you. I did some research to compile a simple reference list of the ten highest customer-rated Oriole feeders from the website so you don't have to!
Below I've listed the feeders with links to purchase, quick hits of information on each, and what people like about the feeders. My hope is that laying the feeders all out on this page will save you shopping time! If you're interested in learning more or buying a specific feeder, simply click on the image!
An Intro to Baltimore Orioles
Baltimore Orioles are stunning birds you can attract to your feeders. They migrate from Central America in April and make it to the Northern U.S. by late-April to early-May. It's best to buy your feeder early and put it out in early to mid-April to catch them during their migration. That's the best time to attract them to your yard as they'll be looking for energy during their long flight north.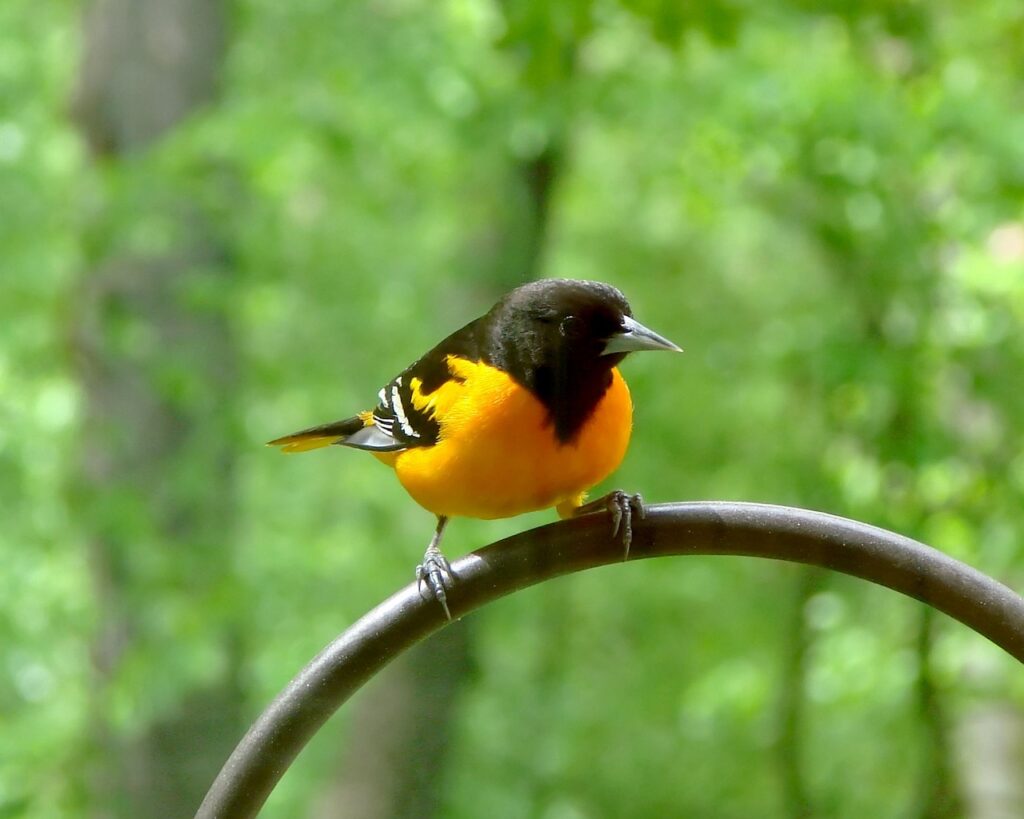 Baltimore Orioles love eating grape jelly, nectar and oranges. So, you'll want to have a feeder that holds one, or all of these foods. Also, Orioles are attracted to the color orange. So, I'm only including feeders in this list that are that color.
Once you pick a feeder, I'd recommend reading my comprehensive guide on attracting Orioles to your yard. There's a lot of additional information there on how to increase the odds in your favor of drawing in an Oriole to your feeding station.
Note: I will update this post as often as possible to ensure the rankings are correct. This post is up to date as of June 25th, 2023. I want to maintain this story as a one-stop-shop easy reference guide. So, post a comment at the bottom of this page if you notice outdated information. Also, while going through feeders on Amazon, I'm strictly focusing on feeders for Orioles. I skipped feeders for hummingbirds and other irrelevant items.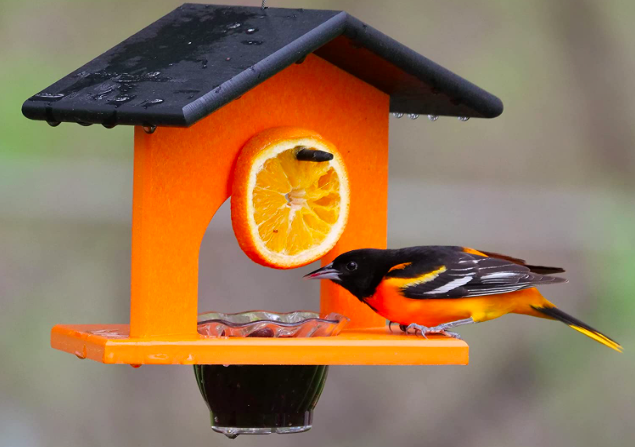 Quick Hits: This feeder is made by the Amish in Shipshewana, Indiana. It's made of poly-wood from recycled milk containers. This Oriole feeder has a peg for orange slices and a central dish for jelly. Size is 9.5 x 7.75 x 7.5 inches. Also, there are three color combinations.
What Reviewers Like: High ratings for being well made, sturdy, and for successfully attracting Orioles. Several commented that the feeder is made to last. Also, reviewers point out that the all-orange color model is great for attracting Orioles.
Quick Hits: This Oriole bird feeder has two long aluminum perches for birds and two pegs for orange slices. There's no dish for grape jelly. It's made in the U.S. with recycled orange plastic. Has a large open-ended metal hook for hanging. Also, has a small roof to help keep oranges out of the elements.
What Reviewers Like: Customers like the large and easy to hang hook. Many reviews rave about the feeder being well-made. Also, the perches do a great job supporting two Orioles at once.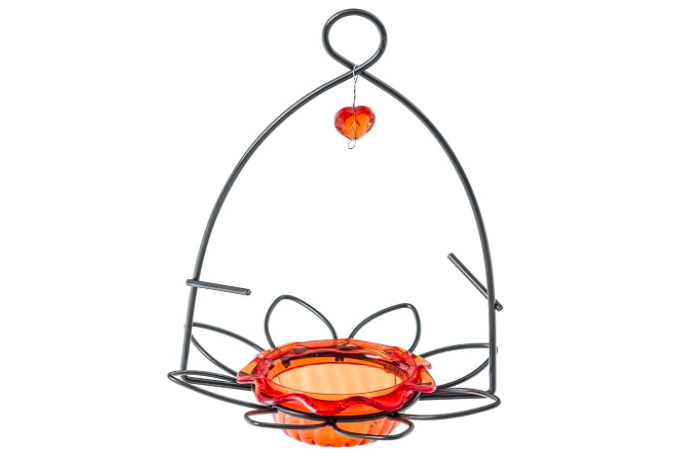 Quick Hits: I can personally endorse this feeder. I bought it last spring and it brought in several Baltimore Orioles through the spring/summer. Also, it's cheap and has space for oranges and jelly. My House Finches also love eating jelly from it.
What Reviewers Like: Reviewers (like myself) love that this is an affordable option that works well drawing in Orioles! It's also easy to clean and simple to hang and use. It's not overwhelmingly orange. But, the heart at the top does the trick at catching the attention of Orioles.
Quick Hits: Larger Oriole feeder with two jelly/nectar dishes, two screws for orange slices and a roof for shelter from the rain. Each feeder is handcrafted and made of a Durable Poly, a plastic made to last in outdoor conditions.
What Reviewers Like: People like that this feeder is well-made and easier to clean compared to wood feeders. It also received high marks for being sturdy and for having a roof to keep the food out of the rain.
Quick Hits: A 3.4-ounce bowl that can hold grape jelly for Orioles along with any other bird feed. Available in several other colors, but you'll want the orange version for Orioles! Has an open-top hook for easy hanging. Eco-friendly: Made from recycled glass.
Related: How to Attract Hummingbirds to a Feeder in Just Three Steps
What Reviewers Like: Reviewers like this feeder for holding grape jelly. Some enjoy buying multiple feeders and hanging them from each other for a fun "feeding chain". Many customers said this feeder works well drawing in Orioles for grape jelly.
Quick Hits: Made with poly wood from recycled milk jugs. Double-Cup Oriole Bird Feeder with two spokes for orange slices made by the Amish in Shipshewana, Indiana. Built to last a lifetime with durable materials.
What Reviewers Like: Raved about for being well-made and for being visually appealing in your yard. Many reviewers like how sturdy and easy to clean this feeder is. Many claim the feeder does well attracting Orioles and has a lot of space for them!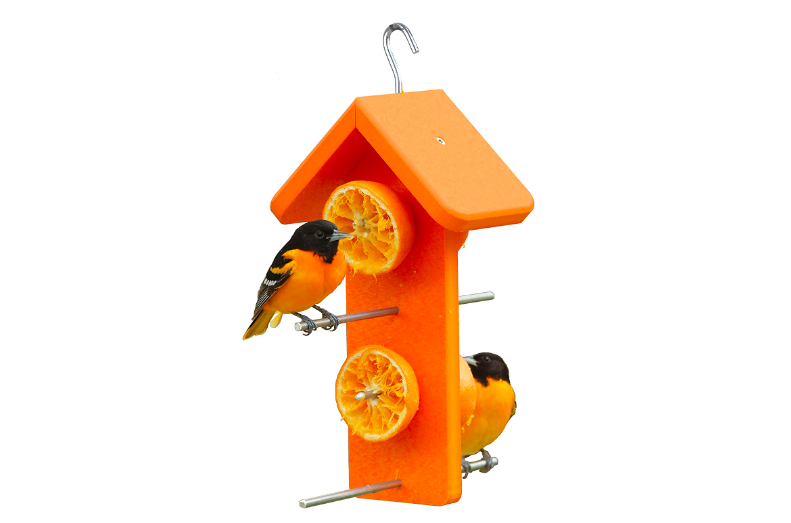 Quick Hits: Has two aluminum perches and four spots to hang orange slices. This feeder is made of plastic from recycled milk jugs. Size: 8.5 x 7 x 14.5 inches. Made in the USA.
What Reviewers Like: Solid construction and well-made are common comments. Reviewers also rave about this feeder being easy to clean and having ample space for orange slices compared to other Oriole feeders.
Related Content: How to Make Hummingbird Food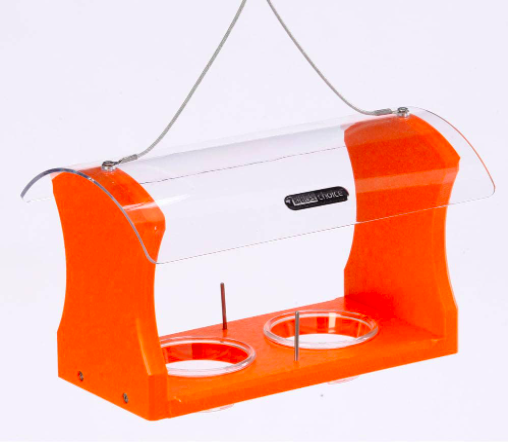 Quick Hits: A large Oriole feeder with two jelly/nectar dishes and two central spokes for orange slices. Also has a roof to guard against the weather and a hanging cord. Made from recycled poly-lumber. Made in the USA (Wisconsin, specifically). Size is: 13 x 8 x 7 inches.
What Reviewers Like: Some claim this to be the "best Oriole feeder" they've purchased. Reviewers love its size, durability and straightforward ability to attract Orioles. Many also love that this is a tough, heavy-duty bird feeder that's also easy to clean.
Quick Hits: The feeder has a bright orange recycled plastic base with an orange steel roof. It has two glasses for jelly and two spokes for orange slices. Size is 14 x 14 x 12 inches. Also, it's made in the U.S.
What Reviewers Like: Customers like that this feeder looks awesome in their yard while being well-made and sturdy. The roof is larger than the base. So, it gives birds and the food ample coverage from the elements. Also, many reviewers endorse that Orioles love this feeder and found it quickly, due to its orange base and roof.
Wrapping Up
If you found this article helpful, let me know in the comment section below. I'm hoping to do similar bird feeder Amazon shopping guides for other birds soon and want to make sure these posts are as helpful as possible. Finally, thank you for reading. Let's go and attract some Orioles to our yards!
Disclaimer: Some links found on this page might be affiliate links. If you click an affiliate link and make a purchase, I might earn a commission. As an Amazon Associate, I earn from qualifying purchases. There is no extra charge to you if you do this.