A lot of bird feeders look exactly the same. There are countless tube, house and tray feeders at every hardware store. So, if you want to bring more flare to your yard, you should invest in a unique bird feeder (or several) to bring some pazazz!
Looking to spice up your backyard buffet? I combed through pages upon pages of Amazon results to find the most unique (and sometimes funny) bird feeders that money can buy. These are great change up options for your yard and would also make for an awesome gift for the bird feeder in your life.
Interested in buying any of these feeders? Click the link above the feeder or the image to be redirected to its Amazon page.
Disclaimer: Some links found on this page are Amazon affiliate links. If you click an affiliate link and make a purchase, I might earn a commission. As an Amazon Associate I earn from qualifying purchases. (There's no extra cost to you if you do this).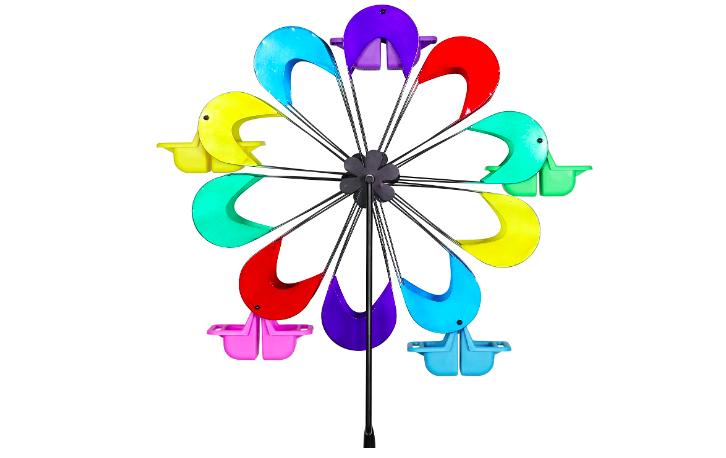 So…how fun is this? This ferris wheel bird feeder has chair compartments for bird seed with perches on them. The result: If a bird lands on a platform it lightly spins the wheel around. So, the birds get food AND A FUN RIDE! This can feed more than 12 birds at a time and is more than eight feet tall. And it also has high ratings, so it's buyer approved!
Price: $109.99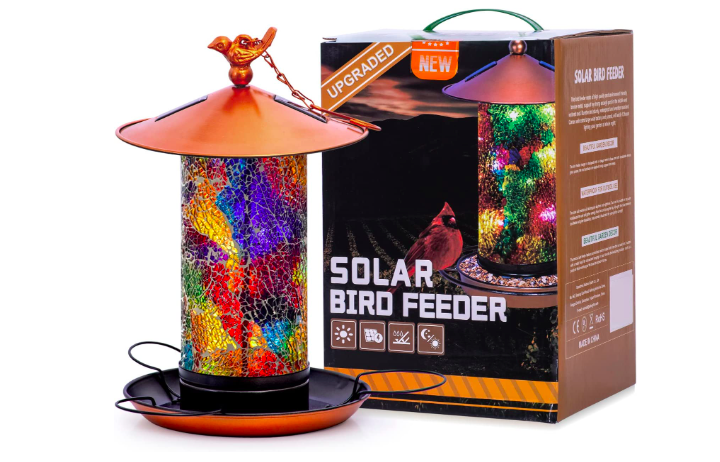 This is a two-for-one kind of deal. It's both a bird feeder and a unique nighttime ornament for your yard. The feeder, using solar power, charges up during the day and lights up at night (for up to 12 hours). I love that I found this. Because it also has a sturdy tray at the bottom with large perches, it should accommodate just about any bird that you'd want at your feeding station.
Price: $39.99
Related Content: My New Favorite Squirrel-Proof Bird Feeder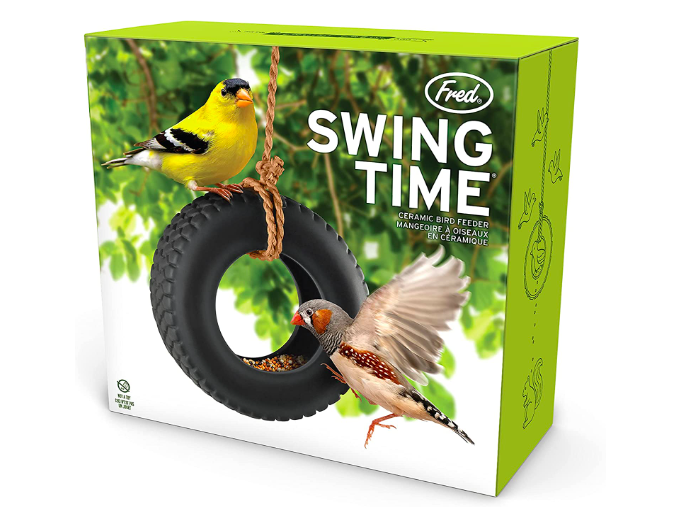 This (ceramic) tire swing feeder is another fun way to feed your birds while giving them the same joy you felt on the elementary school playground tire swing. It's affordable too. Because this is a smaller feeder, you should take caution to hang it out of reach of squirrels, who could easily chew through the hanging string. Let's be honest though, this is more for decoration and fun versus feeding as many birds as possible.
Price: $13.70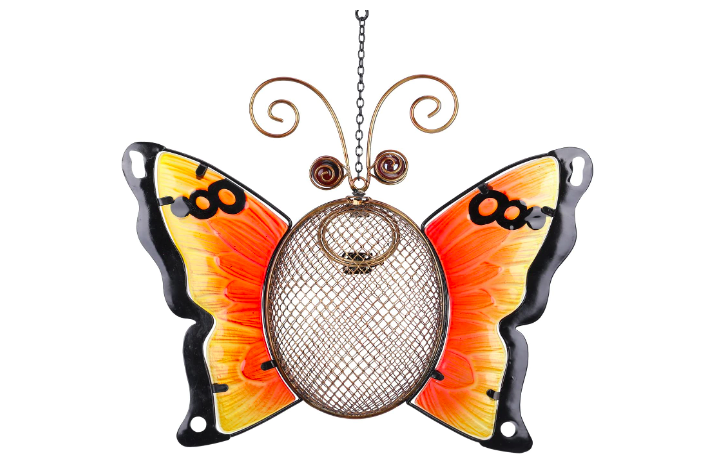 This is another affordable feeder (on sale for less than $10 as I write this article) with a fun design that also holds 2.5 pounds of bird seed. There are no perches on this feeder, making it a good fit for smaller birds, like Chickadees and Finches, who will be able to perch on the mesh in the middle. There are other design options available too: A Cardinal and the sun.
Price: Roughly $9.79 (for the butterfly model)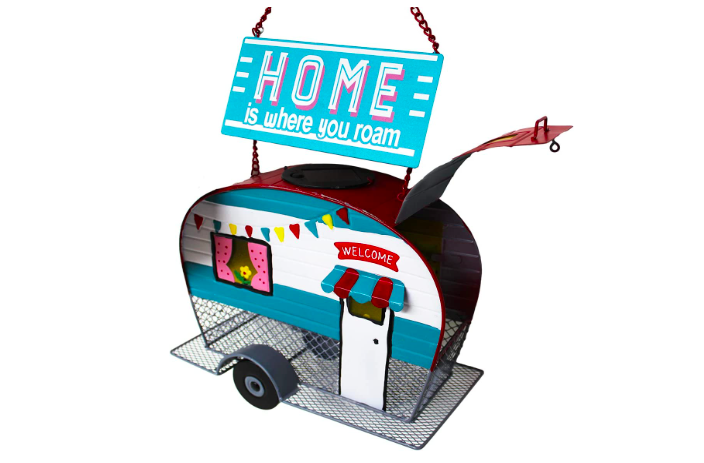 Another solar feeder! This one is in the design of a fun summer camper. This feeder stores up sunlight during the day and has an LED light that turns on at night. The bird seed goes in a top hatch with birds able to eat from the wiring below. Who's ready for a road trip?!
Price Range: $20-$30
Related Content: 11 of the Best Hummingbird Feeders You Can Buy on Amazon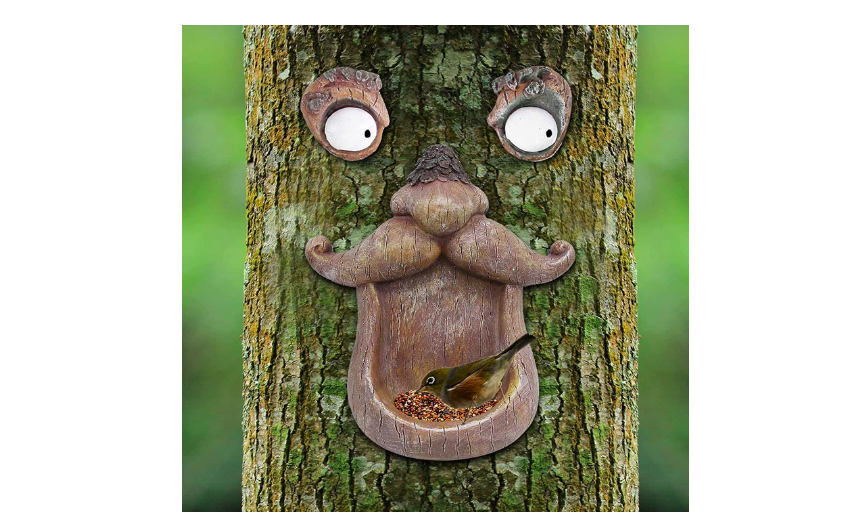 This bird feeder, and funny garden decoration, adds a fun twist to a tree in your yard. All you have to do is hang the eyes and mouth bird seed parts to a tree (the Amazon package comes with nails) and you're ready to go!
Price: $18.99 – there's also a glow in the dark option for $20.99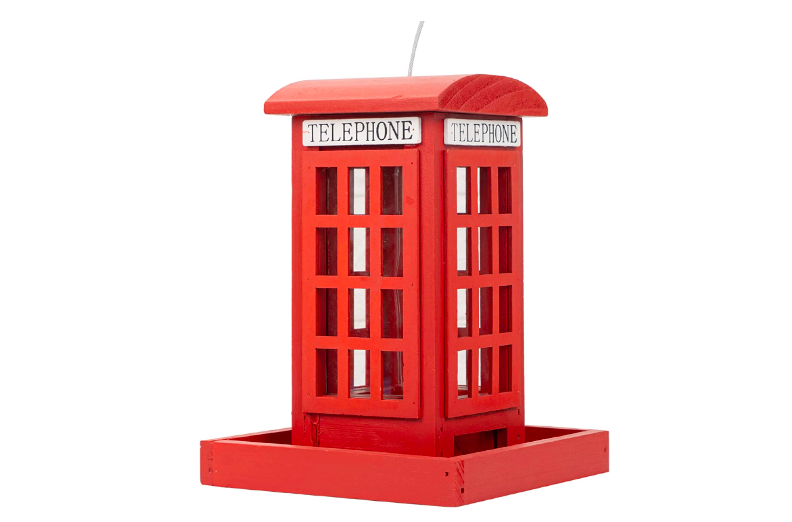 A wooden take on a British phone booth with a platform on the bottom for birds to perch on and grab food. The feeder is 5.5 x 5.5 x 7.9 inches. It's relatively small, but it's affordable and a fun way to add some British flare to your garden. Fish and chips not included.
Price Range: $15-$20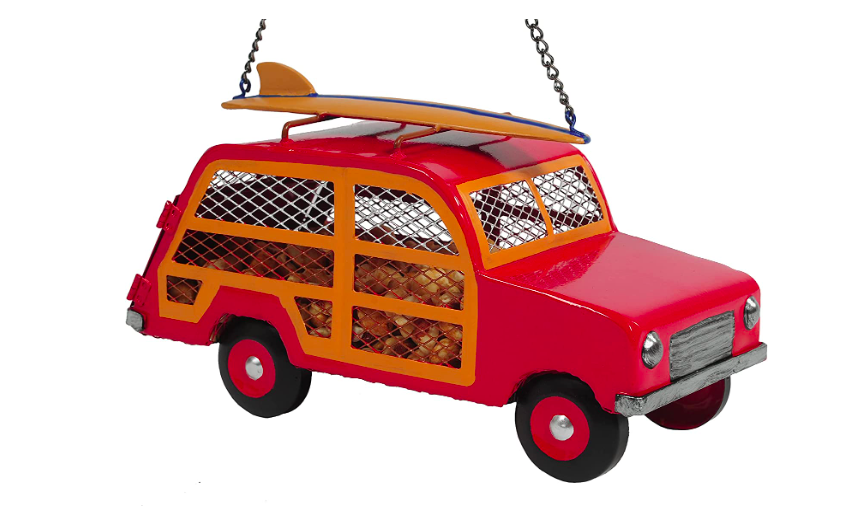 This is a hand-painted metal car feeder that holds up to 27 ounces (1.6 pounds) of bird seed. Amazon reviewers like the way this feeder is made and how it brightly stands out in their yard. Because this is another mesh feeder with no specific perches, it's ideal feeder for chickadees and other clinging birds.
Price: $34.95
Related: The 9 Highest Rated Amazon Baltimore Oriole Feeders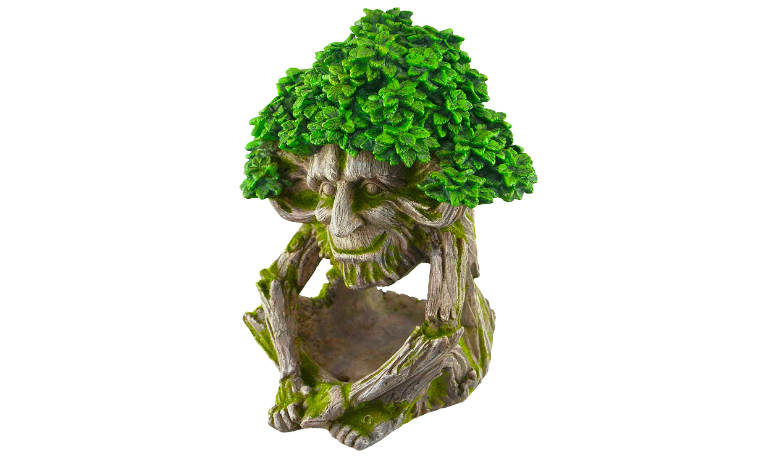 So, this one is giving me a fall/Halloween vibe for your yard and would be a unique garden piece. It can be placed on the ground, but it also comes with a rope in the Amazon order for hanging. Made of resin and natural stone powder.
Price: $35.95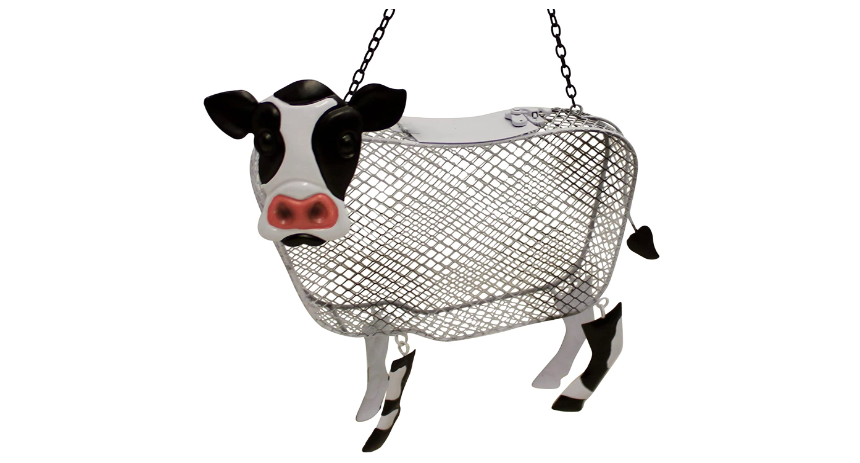 Finally, I had to get in one more animal feeder option. Who wouldn't want a COW BIRD FEEDER at their house? This is another feeder that will only be suitable for smaller birds that can cling to the metal mesh. So you'll want to use larger seeds like sunflower to avoid having food slip through. There are other design options available too: A barn, Goldfinch, moose and pig, to name a few.
Price Range: $28
Related Content: 6 of the Best Large Bird Feeders Money Can Buy