If you're having issues with squirrels gobbling up your bird seed, one of the best investments you can make is buying a squirrel-proof bird feeder. They're usually a tad more expensive, but you'll end up saving money on bird seed long term.
I've tried several of these feeders recently and I have a new favorite hanging from my apartment balcony – the Squirrel X X7 Squirrel-Resistant Feeder. Read on for my quick review on why I think this feeder is well-worth adding to your yard.
Also…if you're looking for more information to keep squirrels off your bird feeders, click here.
Note: I was not paid or endorsed to write this review. These are strictly my views and opinions.
Things I Like About This Squirrel-Proof Bird Feeder
-Most important: It does its job at keeping squirrels out. The feeder is long enough to prevent squirrels from hanging off the top of it to eat seed. The feeding perches are spring loaded and weight sensitive. They give out if a squirrel tries grabbing it. There are also washers on the top cap to prevent critters from opening it.
-It's affordable: My local Menards had it for sale at about $20. It's listed for $31 on the Squirrel-X brand website. That's really affordable for a squirrel-proof feeder.
-It's a big tube feeder, holding more than four pounds of bird seed at once. I don't have to refill it often.
-The perches are big enough to support Northern Cardinals and Blue Jays (to a degree) that visit my patio. It's also been well-used by Sparrows, Finches, Chickadees, Nuthatches and Woodpeckers.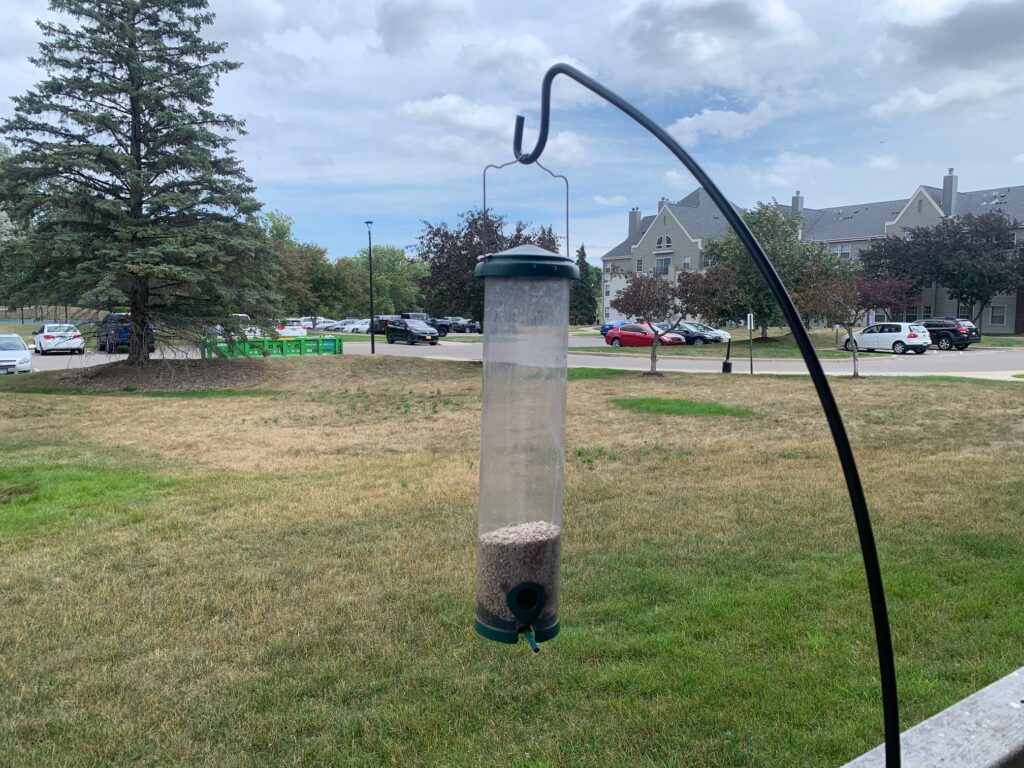 Things I Don't Like About This Squirrel-Proof Bird Feeder
-The tube is made of a relatively flimsy plastic.
-A little difficult to clean out the bottom portion with seeds sticking to it.
-Two perches and feeding ports don't allow a ton of birds to use it all at once.
The Final Rating: 9/10 (Great Investment)
This feeder gets a great score because it's had a perfect track record (so far) with keeping squirrels out of my bird seed. I even saw a chipmunk hilariously try to scale down it…only to flop off onto the ground. This feeder is also an affordable, low-maintenance option if you're getting started with the hobby of bird feeding.
Related Content: 5 Proven Ways to Attract Cardinals to a Feeder