Bird feeding is going through a mini technological revolution. The emergence of smart bird feeders now allow you to see video and photos of birds straight from a feeder on your cell phone. Some also have AI software options to automatically identify the bird that's visiting you.
These smart feeders are appealing for new generations of birders, but they're also great for seniors who might not be able to see or get to their feeders as well as they used to. If you're working at an office during the day, a smart bird feeder gives you a window to visitors at your feeder while you're away.
If you're in the market for a smart bird feeder, I wanted to put together a guide of highly rated options online. I'll continue to update this story as I find more feeders over time.
From what I've heard and seen on social media, Bird Buddy is the most well-known smart bird feeder on the market right now. It takes 1080p photos and videos that can be sent straight to your phone via the Bird Buddy app. You'll be alerted whenever a bird visits with notifications. Bird Buddy is armed with AI and can identify 1,000 different species.
I have several friends who use this feeder. One of the neatest aspects for me is that it also saves video/photos of the birds that visit the feeder into a collection you can view and share with friends.
The feeder has a solar powered rooftop with a lithium battery and holds 3.8 cups of seed.
Amazon Customer Review Score: 4.4/5
Link to view the current price on Amazon
Link to view the current price of Bird Buddy on its website
This bird feeder allows you to watch birds from your smartphone in real time. It can also automatically take pictures and videos (in 1080p resolution) of birds through motion detection and send notifications to straight to your phone.
Related Content: 10 of the Most Unique Bird Feeders Found on Amazon
The feeder itself holds 1.5 liters worth of bird seed, it's weather-proof with a roof, and it also has night vision capabilities to get clear footage of birds at any time of day. It's powered by two lithium ion batteries (included with purchase).
This is a tray bird feeder with a perch to accommodate songbirds of all sizes. You can also buy an add-on hummingbird perch for the summertime!
Amazon Customer Review Score: 4.5/5
Link to view the current price on Amazon
Link to purchase on the Netvue website
This smart bird feeder is great for hummingbirds, but it's actually a two-for-one bird feeder: You can offer both bird seed and nectar with it! The seed goes in through the top into a tray. A hummingbird nectar tray attaches to the base of the feeder.
This feeder detects birds as they arrive and sends you a notification on your phone. It also has AI bird identifying capabilities and will show you a listing of possible birds.
It's powered by two lithium ion batteries (included with purchase).
Amazon Customer Review Score: 4.3/5
Link to view the current price on Amazon
Link to purchase from the BirdDock website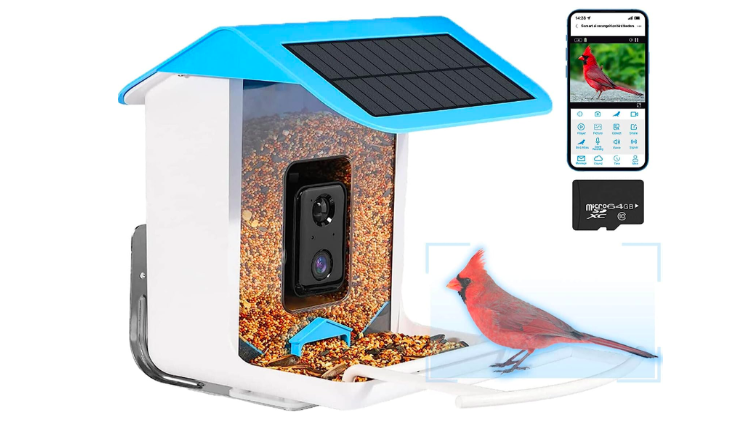 Like the other feeders listed, this bird feeder has a camera that will take HD video straight to your smartphone. It also has AI software to identify the birds that visit.
Related Content: 5 Proven Ways to Attract Cardinals to a Feeder
A unique aspect of this feeder is that it has a solar panel and a lithium battery. You won't have to worry about the feeder getting power or changing batteries often.
Customer reviews also praise the customer service for this product, which is also a good sign.
Amazon Customer Review Score: 4/5
Link to view the current price on Amazon
Wrapping Up
Smart bird feeders are an option worth exploring to start or continue growing your hobby. I hope this roundup was helpful as you shop around. Check back as I continue to add feeders to this page! I only expect these products to grow in popularity.
Disclaimer: Some links found on this page are Amazon affiliate links. If you click an affiliate link and make a purchase, I might earn a commission. As an Amazon Associate I earn from qualifying purchases. (There's no extra cost to you if you do this).