Are you looking for a bird seed with minimal mess? You might be interested in giving Meadow Ridge Farms No Grow Bird Seed a spin.
I'll get straight to the point of my review: I love this bird seed and it's a regular in my rotation of offerings. It's a great option if you're looking to minimize the mess below your bird feeders. Most importantly, I've found that a wider variety of birds enjoy this bird seed compared to regular black oil sunflower seed, which is tough to achieve!
While bird feeding is an amazing hobby, one downside is that birds can leave a considerable mess near and below your bird feeder. Sunflower seed, while a favorite among birds, can be particularly messy due to the hulls that accumulate on the ground, making it cumbersome to clean up.
If you live in an apartment or shared space, leaving a big mess behind might not be desirable.
Although no-mess bird seed is more expensive than typical bird seed, I find it worth the cost to avoid a mess. I live in an apartment and try to keep things as neat as possible.
The ingredients of this bird seed are sunflower chips, white millet, and cracked corn. This seed is especially appealing to me in the spring when native Sparrows, Indigo Bunting, Mourning Doves, and more are particularly drawn to white millet.
I'm biased because I live in Minnesota, but I also appreciate that this seed is bagged in Delano, Minnesota. Love it.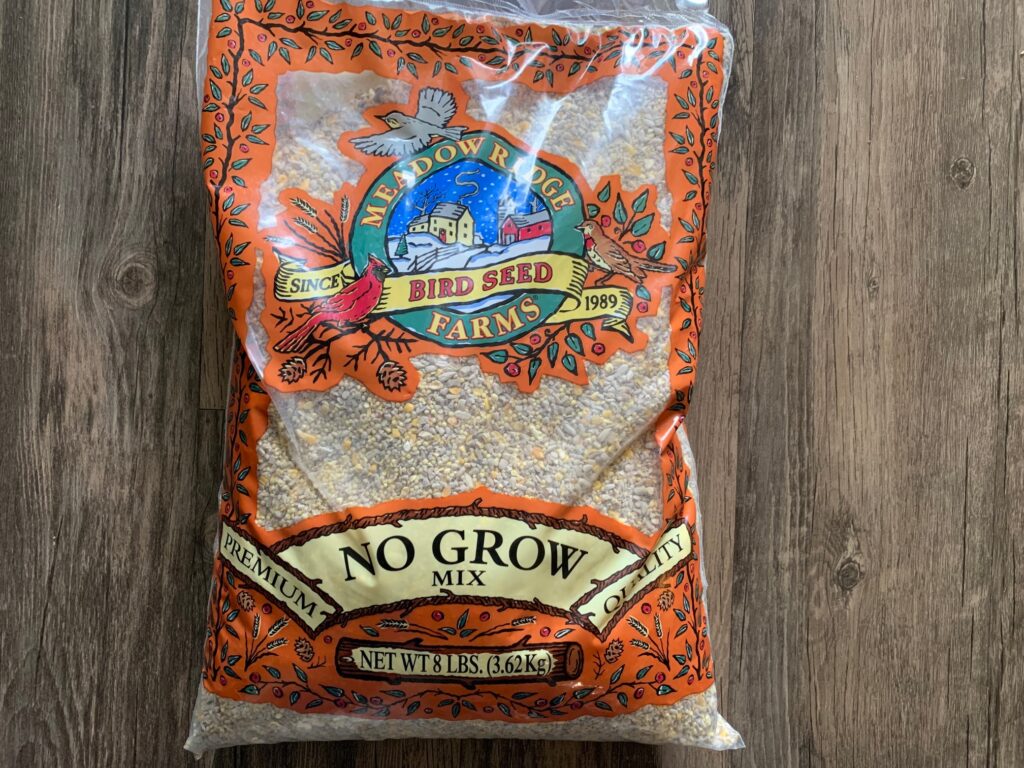 Related Content: The Best Bird Seeds on Amazon (Top 10 List)
The only part I don't love about this seed is the cracked corn gets mixed reviews by the neighborhood birds. Sometimes its gobbled up, other times I notice that cracked corn can get tossed aside in favor of the sunflower chips and millet.
With all this in mind, my final review score is 9/10. This is a pricer bird seed, but it's worth trying if you're looking for a less-messy alternative.
Amazon sells this bird seed in 20 and eight pound bags. I've also had luck spotting this seed at hardware stores.
Birds That Will Enjoy Meadow Ridge Farms No Grow Bird Seed
-American Goldfinch
-Chickadees
-Cowbirds
-Grackles
-Grosbeaks
-House Finches
-Indigo Bunting
-Jays
-Mourning Doves
-Northern Cardinals
-Nuthatches
-Red Winged Blackbirds
-Sparrows
-Woodpeckers
Note: I was not paid or endorsed to write this review. These are strictly my views and opinions.
Disclaimer: Some links found on this page is an Amazon affiliate link. If you click an affiliate link and make a purchase, I might earn a commission. As an Amazon Associate I earn from qualifying purchases. (There's no extra cost to you if you do this).