Are you looking for affordable bird feeders that also have great customer reviews? Look no further! In this post I did some research on Amazon to find a handful of feeders currently listed under $25 that also have a customer review rating of 4.5/5 stars or higher. I tried to find a variety of bird feeders, ranging from tube and tray feeders to hummingbird and window feeders.
These are all good feeders to explore if you're new to the hobby and aren't ready to make a sizable financial investment yet.
Affordable Bird Feeders #1: Wild Wings Cedar Tray Bird Feeder
This tray feeder is made of cedar wood and holds multiple pounds of seed mix, making it easy to quickly refill. A tray feeder is a great option as it will support birds of all sizes (like Cardinals, Blue Jays and Red-Bellied Woodpeckers).
The feeder features a screened bottom, allowing messy husks to drop away and the tray can be removed for quick cleaning. The cedar is made to resist fading and water damage. I listed this feeder first because I'd highly recommend it for a first-time bird feeder.
Affordable Bird Feeders #2: iBorn Metal Bird Feeder with Six Feeding Ports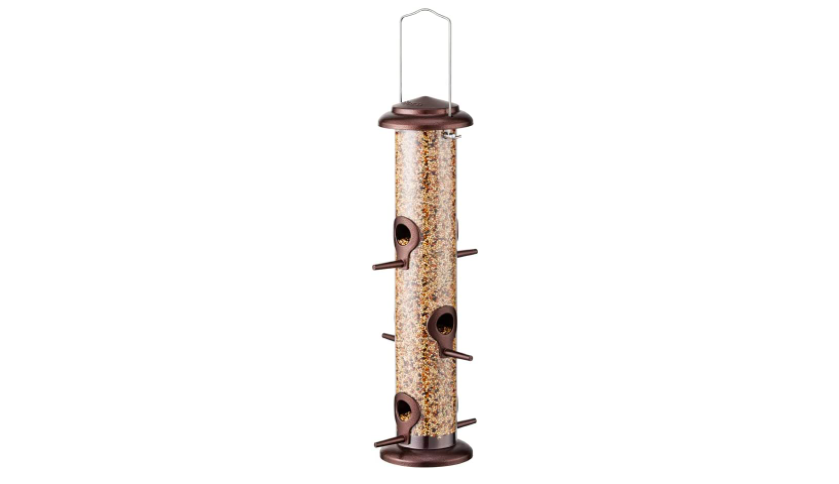 The iBorn Bird Feeder is a solid choice for anyone who wants to attract a flock of birds to their garden or backyard. This feeder has six feeding ports and a durable metal construction. The perches are located on either side of the feeder for easy access. The feeder is easy to set up and fill with seed from the top, so you can start feeding birds almost immediately.
Related Birding Content: 4 Tips for Attracting American Goldfinches to your Yard – Guaranteed
Affordable Bird Feeders #3: WOSIBO Platform Metal Mesh Hanging Bird Feeder Tray
This hanging platform bird feeder comes with a sturdy steel frame and rust-proof tray, measuring at 9.5 x 7.5 inches. It's easy to hang straight out of the box and clean between fillings. A nice no-nonsense bird feeder!
#4: A Window Bird Feeder with Suction Cups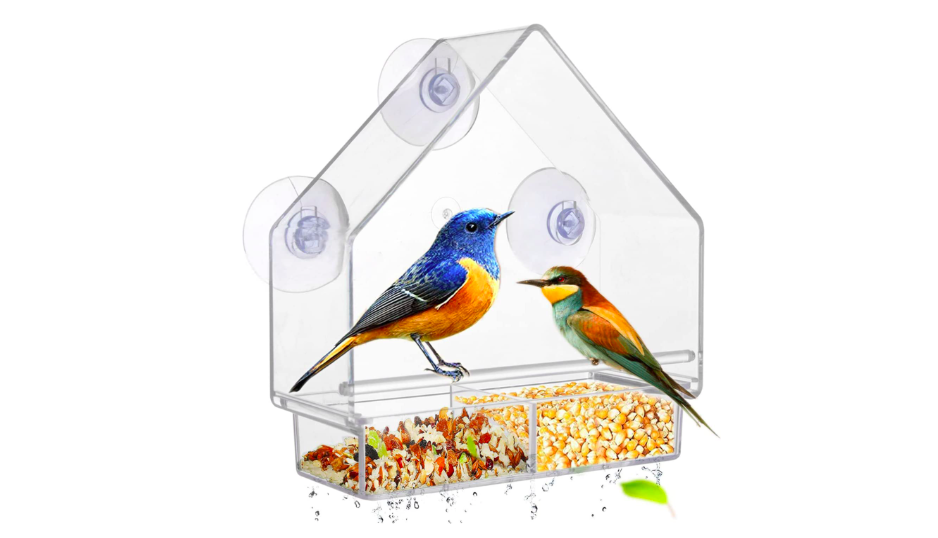 Having a window bird feeder is a great option to enjoy birds up-close from the comfort of your home. The sliding feed tray and two food compartments accommodate multiple bird varieties. This feeder is weather-resistant (with drainage holes) and easy to clean.
#5: MEKKAPRO Outdoor Hummingbird Hanging Feeder
Feeding hummingbirds shouldn't break the bank! This affordable hummingbird feeder is made of glass, with several yellow feeding ports and perches. The feeder holds up to 10 ounces of hummingbird food. It also has a built in ant-guard on top to slow down bugs from getting to the nectar.
#6: C&S Wild Bird EZ Fill Suet Basket
You can't get cheaper than this for bird feeding! This feeder is cheap and a suet cake will run you $1-$5. This EZ-Fill Suet Basket is easy to fill and clean with its design. It features a wire frame design with heavy-duty metal construction and durable protective coating to hold up to all types of weather conditions. Bring on the Woodpeckers to your yard!
#7: Gray Bunny Ground Bird Feeder Tray
This metal ground-platform feeder is 7×7 inches, designed to be portable, yet large enough to allow multiple birds to eat at once. Plus, the raised platform prevents waste, keeping your yard clean. This is a terrific bird feeder for ground feeders like Juncos.
Finding the right bird feeder can also be a process of trial and error. If you're getting started with the hobby, I'd recommend any of these feeders, or a combination of several, as a great starting point. If the hobby catches hold with you, there's always the option to invest in bigger and more expensive bird feeders. Have fun out there!
Disclaimer: A link found on this page is an Amazon affiliate link. If you click an affiliate link and make a purchase, I might earn a commission. As an Amazon Associate I earn from qualifying purchases. (There's no extra cost to you if you do this).