I found myself at Home Depot recently and decided to check out the bird feeding aisle. I looked through all the seeds and took pictures of my favorites, along with a few bags I would avoid.
The result is this buying guide to help you pick out quality bird seed if you're shopping at Home Depot. I've experimented with a bunch of different bird seeds in my years feeding the birds and wanted to make something to guide you if you're new to the hobby and are shopping for bird seed.
Here are my top picks (in no particular order) for the best bird seed to pick up at Home Depot. Further down I'm posting the seeds that I don't think are worth the money.
Great Home Depot Bird Seed: Wagner's Black Oil Sunflower Seed ($30 – $40 price range)
Sunflower seed is my favorite bird feed. It draws the widest variety of birds and is one of the cheaper bird seeds available. This 40 pound bag was around $35 when I was in the store. It's a great deal and I usually have a bag on hand. It will practically last you forever.
Related Content on Dan's Bird Bites: The Ultimate Bird Seed and Bird Food Guide
Black Oil Sunflower Seed Can Attract These Birds:
-Cardinals
-Chickadees
-Finches
-Grosbeaks
-Nuthatches
-Red-Bellied Woodpeckers
-Titmice
Great Home Depot Bird Seed: Pennington Waste Free Nut and Fruit Blend ($15 – $23)
One of the biggest complaints with feeding the birds is the mess it can create. But, buying a waste-free bird seed mix can help minimize this concern. These mixes have sunflower chips without the shells and other seeds/grains that birds eat straight up to avoid leftover residue.
I live in an apartment. So, I try to buy waste free bird seed as often as I can. I picked up a bag of this and my birds ate it up quickly. I love that it has a sunflower kernel base and also white millet, which is great for Mourning Doves and Sparrows in the spring. It also has peanuts and cracked corn, which help with drawing in other species like Blue Jays.
I enjoy buying this type of seed in a pinch and will do so again.
This Bird Seed is Great to Attract These Birds:
-Finches
-Grosbeaks
-Juncos
-Mourning Doves
-Sparrows
Best Home Depot Bird Seed: Pennington Nut & Fruit Blend ($16 to $20 range)
I love what I see from this mix. It has black-oil sunflower seed, sunflower chips, peanuts, safflower, raisins, and dried cherries. With the variety of ingredients, you can attract a wide-variety of birds.
I was also impressed that this blend didn't have any red flag fillers (red milo, oats). I'd recommend this to new and experienced birders to put in a tray or hopper bird feeder.
Fruit and Nut Bird Seeds are Great to Attract These Birds:
-Finches
-Grosbeaks
-Juncos
-Mourning Doves
-Sparrows
Best Home Depot Bird Seed: Pennington Songbird Food ($15 to $20 range)
This songbird bird seed mix is made primarily of black oil sunflower, which I'm a big fan of. It also has safflower, peanuts and dried fruit. So, this is another quality bird seed for a decent price. As indicated on the bag, this is a great bird seed for attracting Northern Cardinals.
Songbird Bird Seed is Great to Attract These Birds:
-Cardinals
-Chickadees
-Finches
-Grosbeaks
-Sparrows
Related Content: The Proven Best Bird Seed for Cardinals
Home Depot Bird Seeds to
Avoid
I also spotted several bird seeds at Home Depot I wouldn't recommend. Each of these have a characteristic in common. They're full of filler ingredients like red milo or oats.
These are often the cheapest seeds to buy, but birds will end up tossing a lot of it to the ground. So, you're losing money in the end!
Wild Bird Food is Terrible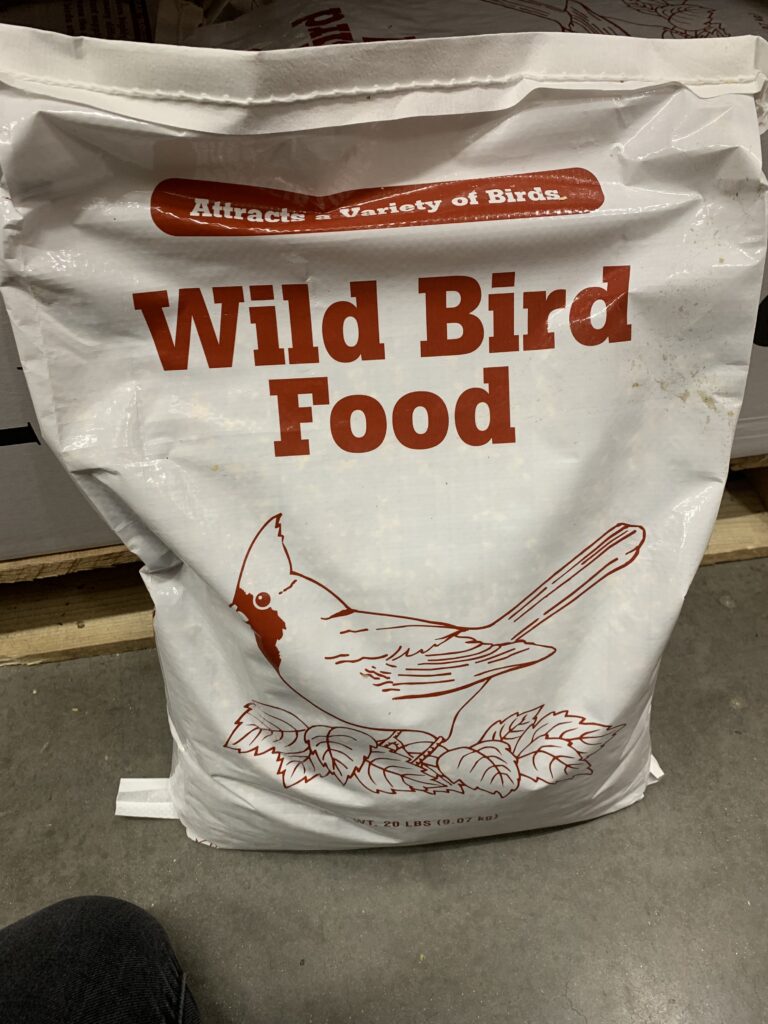 If you're looking for a dirt cheap option to get started with, this could actually be appealing (this bag was around $9). But, this seed has a ton of milo filler. So, you're likely to attract pesky birds like House Sparrows, Grackles, and Starlings. I'd skip it!
Wagner's Four Season Wild Bird Food isn't Worth it
A Wagner's bird seed on the naughty list? Say it ain't so! This is a cheaper bag, but the black oil sunflower variety is a much better buy for birds.
This has a ton of milo and cracked corn filling it out. Only buy this if you want to see the majority of it scattered and sprouting on your lawn.
Pennington Birder's Blend Stinks
Much like the other two brands above, I don't like this bag because it has red milo. Waste of money!
There are several other much more appealing Pennington blends to choose from. Refer back to the good bird seeds I recommended.
Wrapping Up
Home Depot stores offer solid variety for bird seed and several great choices. Personally, I'm a bigger fan of the selection at Menards, Ace Hardware stores and at local Wild Bird stores. However, Home Depot has enough selection to be a good place to shop for bird feed.
I also saw plenty of options for suet and hummingbird nectar and feeders at Home Depot.
I hope this guide was helpful if you're shopping for bird seed at the Home Depot. What are your favorite finds? Drop a comment below or shoot me an email! Happy bird feeding.